Bagpipers, guitarists, ophecleidists, pianists, crwthists, drummers, Alpenhornists, bassists, sitarists, fiddlers, singers, songwriters, composers, dancers, poets, mimes, jugglers, and sword-swallowers!
Do you perform lieder, swing, polka, blues, bharat natyam, doo-wop, raga, fado, motets, samba, rap, banal lounge piano, kathak, folk-rock, piobaireachd, jazz-rock, Shona mbira, punk, mariachi, atsiagbekor, flamenco, death metal, or Captain Beefheart covers?
You are needed.
The Climate Message Video Festival is underway, and this is a call for your submissions.

Sandhya Sanjana & Satchit Puranik (Mumbai and Amsterdam)
This is a new project at the intersection of musical creativity and environmental activism, and I want to ask for your participation. It'll take you 3 minutes, tops — very simple, very easy, very important.
I am building an online video "collage" featuring musicians from all over the world; different idioms, different languages…all doing variations on the same message: that it's time to take action on climate change.
Here's the one I made a few weeks ago to kick things off:
As you can see, it's as simple as can be:
20 seconds of playing/singing
20 seconds of talk
20 seconds of music
Here's Climate Messenger Nick Morrison, who lives in Germany and just got back from a gigging tour of West Africa:
We'll have a good starter batch of videos — over 100 — by Earth Day, 2014 (April 22nd). At that point, we're going to ramp up publicity and outreach, putting this tool in the hands of the larger environmental awareness campaigns as a way of influencing the public discussion of climate change.
And here's Messenger Kunal Shrivastava, currently based in Syracuse, New York, who delivers his Message in Hindi:

I hope you'll make a Climate Message video.
Here's how to do it:

1. Turn on video recording on your cellphone or webcam.

2. Play or sing 20-30 seconds of music – anything you like.

3. Speak to the camera, in any language you like. Say your name, your location, and some sentence like, "Climate change is a danger to us all — time to take action."

4. Play or sing another 20-30 seconds of music.

5. Turn off video.

6. Email file to theclimatemessage@gmail.com

7. there is no 7. You're done.

Marcia Diehl, Cambridge, Massachusetts, USA
I'll upload it to our YouTube channel, and feature it on The Climate Message website. Eventually all the videos will be linked to an interactive world map — and my goal is to have sounds and voices from all over the world saying in as many different languages and styles as possible that the time to get serious about climate change is NOW.
Here is Climate Messenger Amie Maciszewski, playing beautiful sitar in Texas, USA:
We don't really need to talk about the music; play or sing something beautiful that reflects who you are and what you do.
Talking into a camera can be disorienting. Here are a few tips.
When you speak, identify yourself, and give as much "locating" data as you feel comfortable doing. These videos will eventually be linked to world and regional maps, so we can get a sense of how much of the world is represented.
Here's Afropop expert Banning Eyre, making his message from Connecticut, USA:
By the way, if you know musicians who live in unusual or distant locations, please reach out and invite them to participate! Artists in India, Japan, Brazil, Canada, Australia, the UK, Korea, and New Zealand have already committed to send in videos soon.

Victor Dumitrache is a Romanian street singer in Bremen, Germany — and he delivers the Climate Message in Romanian.
You don't have to be a musician. Here's poet Philip Kienholz, from Peterborough, Ontario:
Here's guitarist Scott Rasmussen from Amherst, Massachusetts, playing guitar and electronics. Note the cool display of nature images on his computer in the background!
Here is a joyous duet by Beet the System (Baba Ndjhoni & Sven Eberlein):
We are speaking on behalf of Mother Earth, so it is appropriate to use your Mother Tongue. The more languages represented, the better!
It's hard to get your climate points down to just twenty seconds. But these Climate Messages are just that: a few sentences, max — framed with beautiful music from lots of different places. You don't have to say a lot, just a thought or two.
Climate Messenger Richard Davis, Boston, MA, USA:

If you're looking for the exact right thing to say, you can use one of these bullet points as a place to begin. If your Message is not in English, please forward a written version of your text if you can, so that we can build a library of these short talking points in as many languages as possible.
• The world is full of music, but if we fail to address climate change, the whole world will fall silent.

• I'm concerned about climate change, because music takes from the past and gives to the future — and we need a livable future.

• We need to work together in the fight against climate change, so that all the generations to come can fill their sunlit days with song.

• All the advances humanity has made over our history could be wiped out if we don't take action on climate change.

• As a musician, what climate change means to me is that our planetary environment is profoundly out of tune — and our lives depend on making it better.

• Wherever humanity goes, we take music with us. But I want the future of music to be more than songs to give us comfort in our dying moments; we need to take action on climate change!

• The time for action on climate change was fifty years ago. But we're here now, and we need to stop delaying.

• Music needs a stable civilization to flourish — and civilization needs a stable climate. Lose climate and we lose it all.
These little sound-bites can be part of your Climate Message video if you can't think of something to say in the heat of the moment.
Climate Messenger Isaac Taylor, speaking and singing from Martha's Vineyard, Massachusetts, USA:
You may well ask: Since the climate's already shot to hell, and all we have left is a grim waiting game before the crap hits the air ducts, what's the use?
You may well ask: isn't this just a distracting feel-good initiative when there's real work that needs to be done?
You may well ask: Do you honestly expect this to have an impact?
And I will answer each objection in turn:
If nothing else, we as performers can bear witness. We are among the only people in the world who get given microphones and audiences; it is our responsibility to our fellow humans to help them understand what is happening in order to face it with courage and calm.
If it only takes you three minutes to do, then it's not much of a distraction, is it? You can even do it while you're waiting to be arrested outside the White House! And when the news on climate is so unremittingly grim, there's much to be said for finding ways to feel better for a few moments. These videos help me gather strength for the battles ahead; they help me feel like I'm not alone. That's got to be worth something.

Everything has an impact. Perhaps this Video project will be that one small yop that put it over the top.
Climate Messenger Benjy Wertheimer, Portland, Oregon, USA

Pete Seeger started the Clearwater project with the idea that people would come to the riverbank to hear the music, and be so moved by the Hudson's plight that they'd start agitating to get it cleaned up. People told him he was crazy. Guess what? It worked.
This project is my small Clearwater, and we (all of us) and our music (all of it) are the river.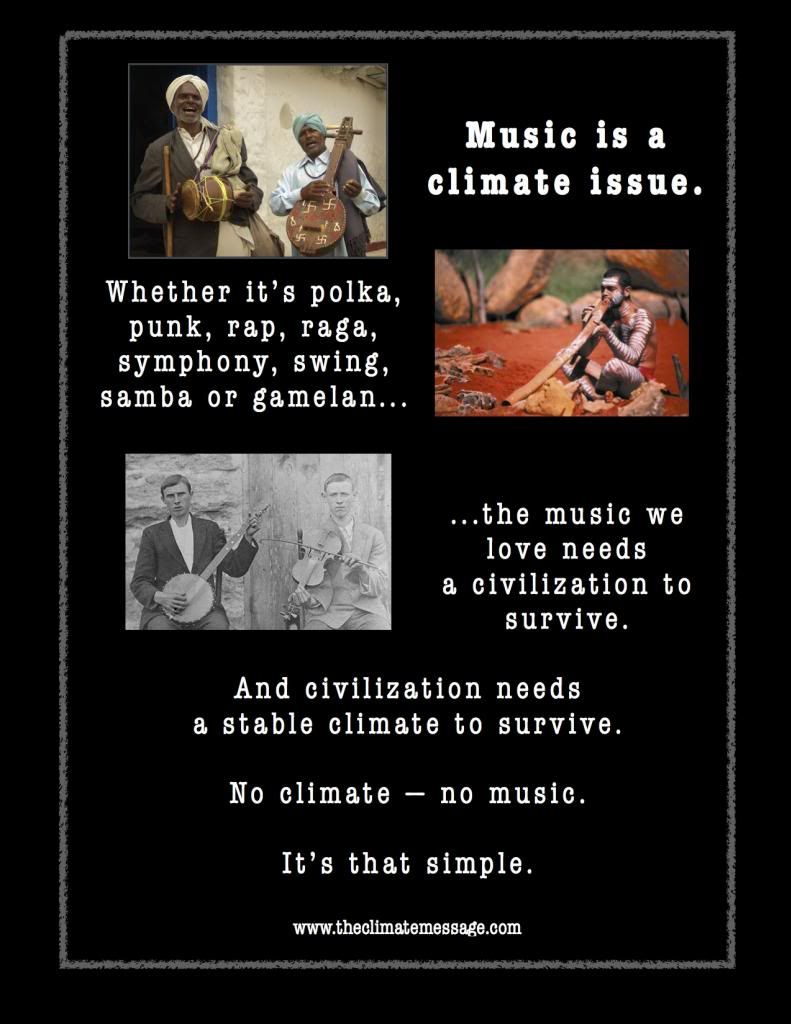 Make a Climate Message Video. Sign up at the link on the upper right of the web page. Join our Facebook Event Page. Send it to theclimatemessage@gmail.com. Tell your friends, and ask them to do the same. Let's make some beauty, and spread the word.
Thank you all.