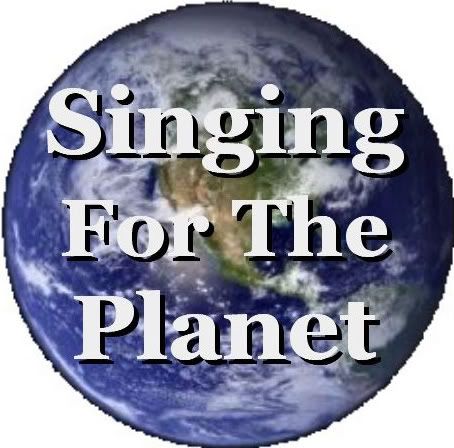 Deepti Navaratna / Dean Stevens / Gabrielle Agachiko

Three Of New England's Most Creative Singers Join Voices Against Climate Change

Saturday, May 10 — 7:00 pm


Emmanuel Church, 15 Newbury Street, Boston
On Saturday, May 10, three singers from diverse musical traditions will join together to draw attention to the global climate crisis. Featured artists are: singer-songwriter Dean Stevens, South Indian classical vocalist Deepti Navaratna, and the brilliantly innovative jazz vocalist Gabrielle Agachiko. The music begins at 7:00 pm, at Emmanuel Church, 15 Newbury Street, Boston, MA. Tickets are $25; $20 students/seniors. All proceeds will go to the environmental organization www.350MA.org. For information, please call 781-396-0734, visit "Singing For The Planet" on Facebook, or go to the event website.
"Singing For The Planet" is the ninth concert in the "Playing For The Planet" series, conceived as a way for creative musicians to contribute to the urgent struggle against global warming. Because the climate problem recognizes no national boundaries, the artists represent musical styles from three different parts of the globe. While Stevens, Agachiko and Navaratna sing in different languages and genres, all are virtuoso performers sharing the core values of expression, emotion and honesty. And, of course, all three artists and their accompanists are committed to raising awareness of the potentially devastating effects of global warming. Their choice of beneficiary, 350MA.org, is focused on building global consensus on reduction of atmospheric CO2 levels — action which climatologists agree is necessary to avoid catastrophic outcomes. It'll be an evening of great vocal music, full of exquisite melody, rhythm, emotion and expression — from three singers who are genuine masters of their craft.
Purchase tickets online from CCNOW:

Regular admission: $25

Student/Senior Admission: $20

Advance Ticket Orders Are Accepted Until 3 pm on May 10. Orders received after Tuesday, May 6 will be held at the door.
=======================================================
About the Artists
=======================================================
Deepti Navaratna

"….particularly lovely and bewitching music'
– Matthew Guirerri, Boston Globe —
Deepti Navaratna's music embodies a rare mix of classical wisdom, expressivity and virtuosity. Her long-standing immersion and training in South Indian Classical music under several gurus such as Rohini Manjunath and T.V Gopalakrishnan informs a musical persona that is deeply rooted in the South Indian classical idiom. In her contemporary classical forays, her musical aesthetic speaks of a contemplative yet adventurous search for reinventing the classical in the beauty of a new sound configuration. From South Indian classical repertoire to avant garde contemporary compositions, she displays a unique versatility that is distinctly her own.
"Deepti Navaratna's rendition of Sanskrit shloka and thanam in Carnatic style was particularly beautiful"
— Shuchita Rao, India New England —
An empanelled artiste of All India Radio since 2000, she topped the All India Radio's National Music competition twice in the categories of Carnatic and light classical music in 1999 and 2000. She was featured as an Youth Ambassador for the Arts at the prestigious National Youth Festival hosted by the Government of India in 1999 and 2001. After moving to the United States, she has received several distinctions as a traditional musician such as Cambridge Arts Council Grant (2011), Emerging Artist Award from St.Botolph Foundation (2011) and the Traditional & Ethnic Arts Fellowship from the Utah Arts Council (2009). Her music has been featured at premiere performing spaces in the United States such as Asia Society (New York City), Symphony Space (New York City), Jordan Hall (Boston), Harvard Arts Museum (Cambridge), Museum of Fine Arts (Boston), Yale School of music (New Haven, CT), Peabody Essex Museum (Salem) among others. Her debut album 'Aarohanam' (2010) has received several national and international reviews and was featured as a top-selling traditional music album on cdbaby.com.
"Navaratna's passion for inter-cultural collaboration is obvious… Deepti Navaratna has been making her presence felt and carving a name for herself in the local classical music scene."
— Radhika Pillai, Examiner —
Deepti is also recognized for charting new directions at the leading edge of contemporary Indian Classical music and world music. She received critical acclaim for her genre-slashing experiments in casting Carnatic sounds with an operatic finish in Indian-American composer Shirish Korde's opera production in 2009 (www.thebanditqueen.com) As an improviser soloist in several inter-cultural productions, she has collaborated with Richard Pittman (Conductor, New England Philharmonic & Boston Musica Viva), Zorana Sadiq (Soprano), Robert Schulz (Boston Metropolitan Orchestra), Jan Muller Scheraws (Boston Musica Viva), Mehmet Sanlikol (Jazz pianist, Turkish composer), Nihan Devecioglu (Turkish folk singer & Mezzo-soprano) & Negar Booban (Persian Oud). As part of the Contemporary Improvisation Department at the New England Conservatory, she has worked with taking the South Indian classical voice to third stream explorations with MacArthur winner – Ran Blake, Klezmer-pioneer Hankus Netsky and viola virtuoso Tanya Kalmanovitch.
The concert will feature traditional Carnatic classical repertoire framed by new music that inventively pairs traditional music with sounds of the world. Deepti Navaratna sings in Sanskrit, Kannada, Urdu, Hindi, Turkish and Greek as she explores the many ways in which world music can be unraveled with a distinct Carnatic twist. Accompanied by an eclectic cast of musicians – the concert promises to take the listener from Muttuswamy Dikshitar to Mirza Ghalib to Mozart in a seamless exploration of unity in sound.
======================================================

Dean Stevens
"Powerful…moving political performer"
— Boston Globe —
For twenty five years Dean Stevens has delighted audiences of all ages throughout the Americas. An exuberant performer of distinctive style and wit, he combines an intricate, self-taught guitar style with a versatile and expressive singing voice.

"Dean Stevens is a charming entertainer, a musician of great sensitivity and wit. His spirit of joy and sharing shines through his music."
— Jerry Christen, New Song Coffeehouse —
He has established himself as a formidable creator and interpreter of a wide spectrum of songs in English and Spanish. His own material explores a variety of personal and social topics, paints sketches of people and places, celebrates the Earth, and annoys the narrow minded.
"Dean Stevens will inspire you. Great voice!"

— Pete Seeger —
Born and raised in Costa Rica, Dean is a lifelong student of Latin America. He learned Spanish at an early age, and readily absorbed the musical and topical influences of the region. He travels frequently to Central America, and has become known for his humanitarian efforts on behalf of refugees returning to their homes in El Salvador and Guatemala.
"Seeing and hearing Dean Stevens live on stage is proof that sanity,
literacy, love, hope, and the forces of good are still alive and well and at work in the universe. Every song is offered with immediacy, humanity, and humor underscored by the most articulate and inspired guitar work you'll hear anywhere on the topical folk circuit….a thinking and compassionate master communicator at the peak of his powers. Losing your faith? Go to a Dean Stevens concert!"

— Geoff Bartley —
Dean Stevens has four highly acclaimed recordings to his credit. His last release, "Eyes of Wonder" (Volcano Records), is a collection of songs in English and Spanish, with guest appearances by Sol y Canto, Randy Sabien, Linda Waterfall, and others.
"A performer with keen vision, tenacity and wisdom to inspire and to entertain"
— Dirty Linen Magazine —
======================================================

Gabrielle Agachiko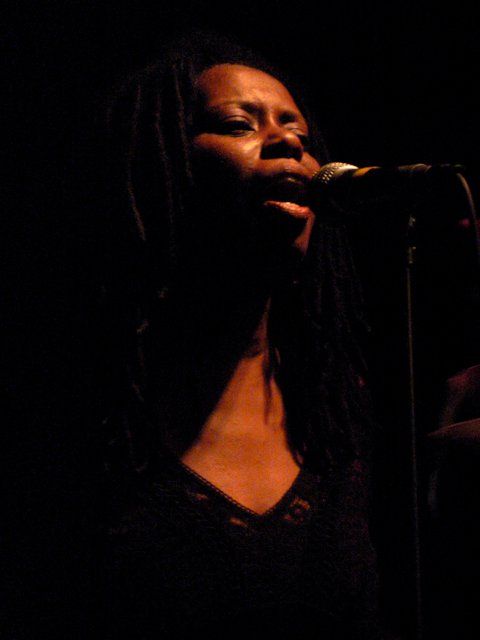 Kenya-born, England-raised Gabrielle Agachiko's winding tri-continental road has brought her to Somerville, Massachusetts, and to the helm of Agachiko, her new seven piece band. Featuring Gabrielle's gripping, soulful and technically spot-on voice and presence, the band sports the unique horn section of flute, trumpet and tenor sax, along with classic hollow-body jazz guitar, acoustic bass and drums. The sound can be understated and delicate, bluesy and brash, or full and lush. Agachiko's veteran musicians have pared their playing down to the essentials, with all their energy focused on bringing the emotional reality of the songs to life.
Gabrielle Agachiko's songs reflect a woman of confidence, clarity and deep understanding.
— Linda Yohn, WEMU Radio —
Agachiko's repertoire ranges from originals to Nina Simone-related material, classic torch songs and even show tunes given an earthy reality by Gabrielle's no-nonsense singing. Arrangements are written by Grammy-nominated arranger and tenor saxophonist Russ Gershon (Either/Orchestra), and by flautist Ken Field (Revolutionary Snake Ensemble).
Agachiko proves she belongs in jazz…If (she) can do this much on her first jazz album,
imagine the sequel. Yes!
— Carol Banks Weber, The Examiner —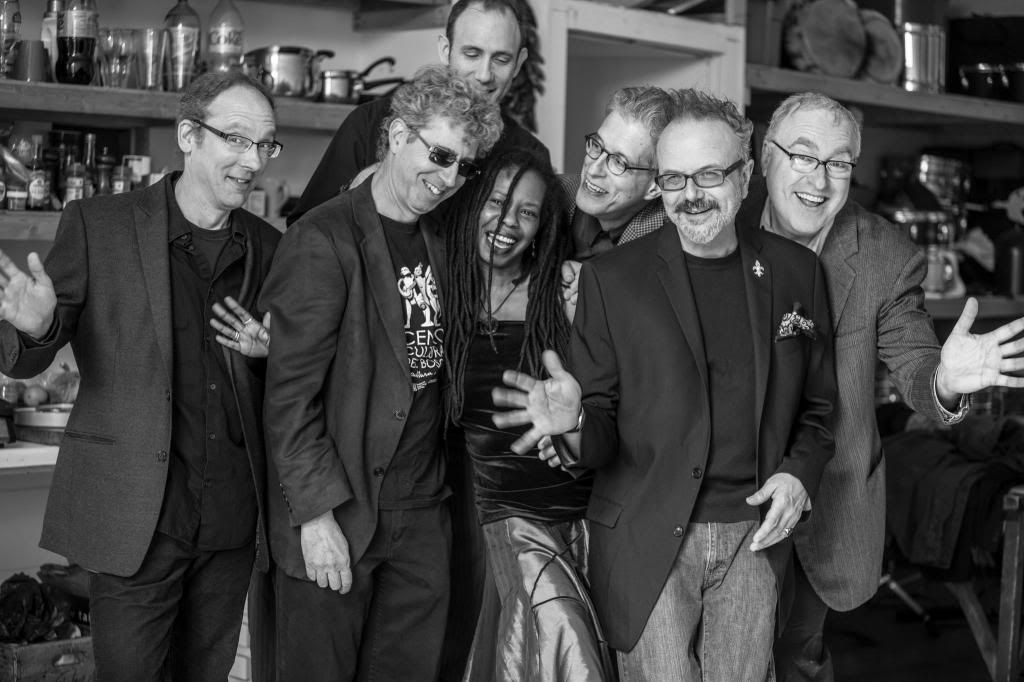 Born in Nakuru, Kenya, Gabrielle attended boarding school in Dorset, England, where her musical talents were noticed and developed in Orchestra and Chorus. As a teenager Gabrielle traveled to Hartsdale NY, where she finished high school, then moved to NYC to attend Julliard as a composition major. After Julliard, she spent time in New York and Paris, working with the legendary Steve Lacy, before settling in Boston. In the mid-80s, the power and emotional directness of her voice landed her in Atom Said, a band which rose to the top of the Boston rock scene before their guitarist/co-songwriter Reeves Gabrels was hired away by David Bowie for his band Tin Machine.
After fifteen years in Western Massachusetts, Gabrielle moved back to Boston in 2005. In 2007, her growing interest in the work of Nina Simone led her to form a quintet to take on the Simone book. Since that time, the scope of Agachiko's repertoire has grown – as has the size of the band, with Gershon and trumpeter Scott Getchell recruited to fill out the horn section. The band now includes Sam Davis, an underground legend around Cambridge MA for his legions of guitar students and surreal sense of humor; Blake Newman on bass, who's been anchoring the Lizard Lounge Poetry Slam for 13 years, and Phil Neighbors, a rock-solid Boston scene veteran.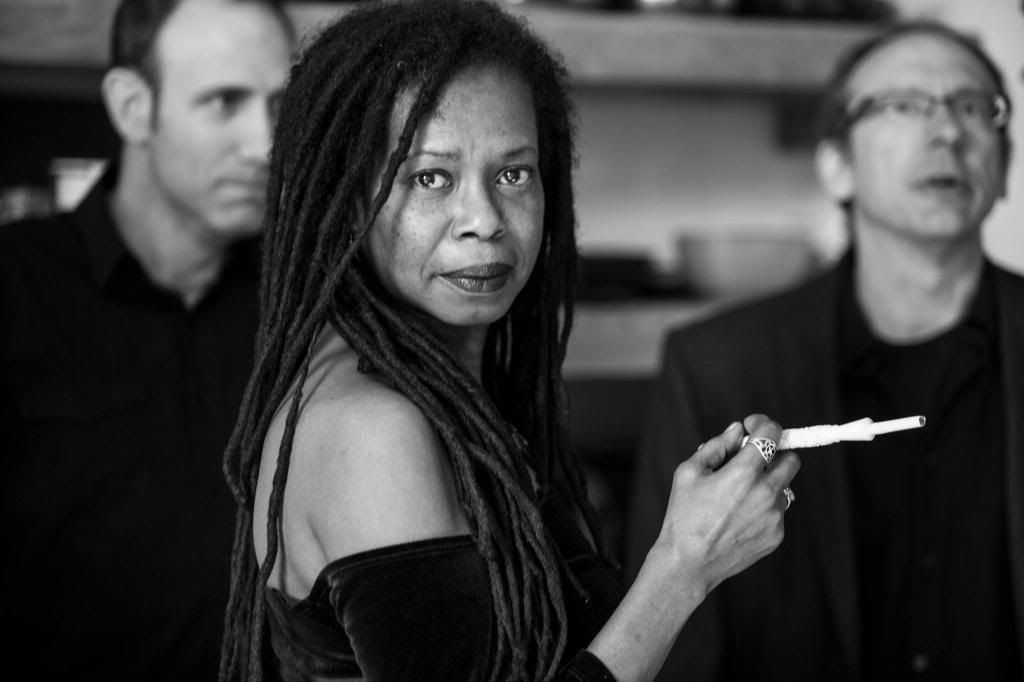 What's exciting about the record is not only the material…, and Agachiko's powerful vocals, but the overall conception — updated soul-jazz as Max Roach and Abbey Lincoln might have done it.
— Jon Garelick, The Boston Globe —
=============================================
About www.350.org and the number 350:
Co-founded by environmentalist and author Bill McKibben, 350.org is the hub of a worldwide network of over two hundred environmental organizations, all with a common target: persuading the world's countries to unite in an effort to reduce global levels of atmospheric carbon dioxide to 350 parts per million or less. Climatologist Dr. James Hansen says, "If humanity wishes to preserve a planet similar to that on which civilization developed and to which life on Earth is adapted, paleoclimate evidence and ongoing climate change suggest that CO2 will need to be reduced from its current 385 ppm to at most 350 ppm." (Dr. Hansen heads the NASA Institute for Space Studies in New York City, and is best known for his testimony on climate change to congressional committees in the 1980s that helped raise broad awareness of the global warming issue.) Activists involved in the 350 movement include Rajendra Pachauri (Chairman, Intergovernmental Panel on Climate Change), Vandana Shiva (world-renowned environmental leader and thinker), Archbishop Desmond Tutu (1984 winner of the Nobel Peace Prize and a global activist on issues pertaining to democracy, freedom and human rights), Van Jones, Bianca Jagger, Dr. James Hansen, Barbara Kingsolver and many more.
Warren Senders is the contact person for "Voices Against Climate Change." He is one of thousands of concerned global citizens hoping to trigger positive change through social action and the arts. He can be reached at warvij@verizon.net or by telephone at 781-396-0734.