On Friday, December 5, the tenth "Playing For The Planet" benefit concert will showcase master musicians from three different musical traditions in a rare evening of pan-cultural improvisation, with all proceeds going to benefit the environmental advocacy group 350MA.org. The performers include Nima Janmohammadi, a contemporary master of Persian classical music; Triarky, a brilliant jazz "power trio" featuring violinist Mimi Rabson and the electric tuba of David Harris; and the Hindustani classical singing of Warren Senders, with George Ruckert & Amit Kavthekar. The music begins at 7:00 pm, at The Community Church Of Boston, 565 Boylston Street (Copley Square), Boston. Admission is $20; $15 students & seniors. For information, please call 781-396-0734, or visit the event website at www.warrensenders.com.
Purchase tickets online from CCNOW:

Regular admission: $20


Student/Senior Admission: $15

Advance Ticket Orders Are Accepted Until 3 pm on December 5. Tickets will be emailed directly to your inbox up to that time!
If you prefer to use PayPal, please use the link below:
"Playing For The Planet: Improvisors Against Climate Change" is the tenth concert in an ongoing series of cross-cultural events produced by Boston-area musician and environmental activist Warren Senders. These concerts were conceived as a way for creative musicians to contribute to the urgent struggle against global warming. Their choice of beneficiary, 350MA.org, is focused on building global consensus on reduction of atmospheric CO2 levels — action which climatologists agree is necessary to avoid catastrophic outcomes.
"…Senders possesses a gift for assembling fascinating programs."
— Andrew Gilbert, The Boston Globe —
Because the climate problem recognizes no national boundaries, the artists represent musical styles from three different parts of the globe, and share key musical values: listening, honesty, creativity, and respect. And, of course, they are all committed to raising awareness of the potentially devastating effects of global warming. It'll be an incredible evening of powerful music — from some of the finest musicians in New England and the world.
"…pleasant surprises…an open-ended, floating, world music festival…" — Steve Elman, ArtsFuse —
====================================
About The Artists
====================================
Nima Janmohammadi
Born in 1984, Iranian multi-instrumentalist and composer Nima Janmohammadi started playing Setar at the age of seven with Mehrdad Torabi. While his main focus has been in playing Setar, he also plays Oud, Robab, Kamanche, Gheychak and vocal repertoire of Persian music. He continued studying various styles of Persian music and completing his repertoire with masters such as Jalal Zolfunun and Massoud Shaari, and later with the legendary masters of Persian music: Mohammad-Reza Lotfi and Hossein Alizadeh. He also studied ethnomusicology and theory of Persian music with professor Dr. Mohsen Hajarian.
Finishing his bachelor's degree in Persian music, he began his career as a professional teacher and performer in Iran. While getting his Master's Degree and Graduate Diploma in Contemporary Improvisation at New England Conservatory of Music, Nima had the advantage of working with great musicians and composers including Hankus Netsky, Ran Blake, Anthony Coleman, Tanya Kalmanovich, Andreia Pinto-Correia and Katarina Miljkovic.
Nima teaches at New England Conservatory and Harvard University. He is an international performer and holds master classes all over the world.
====================================
TRIARKY
[
Low-brass master David Harris and virtuoso violinist Mimi Rabson collaborate with drummer Phil Neighbors in Triarky, a "power trio" performing all original music referencing rock, funk, ska, afro pop, middle eastern, and contemporary jazz. The music is full of driving grooves and heavy energy, busting out with rhythm, dissonance, and improvising.
David Harris has distinguished himself as a trombonist and composer/arranger in a multitude of musical styles. Originally from University City, MO., Mr. Harris associates with a wide variety of musicians performing jazz, R&B, rock, pop, and international folk music. As a jazz composer, he has twice won the Massachusetts Cultural Council Fellowship for music composition. On both tuba and trombone, David has been performing with the Revolutionary Snake Ensemble since 2010, and is longtime trombonist and composer/arranger for the Jazz Composers' Alliance Orchestra, with which he performs and records. An associate-professor at Berklee College of Music, Mr. Harris has been featured on over 40 albums, in the soundtrack for Woody Allen's "Deconstructing Harry", the klezmer soundtrack for the movie "Stranger Among Us", the soundtrack for the movie "Opposite of Sex," and various TV soundtracks and commercials as well. A leader in the klezmer revival, he was the founding trombonist for the Klezmer Conservatory Band, with whom he recorded and toured. Mr. Harris has performed around the world, including the Berlin Jazz Festival, Montreal Jazz Festival, the Sauti za Busara in Zanzibar, Carnegie Hall, Lincoln Center, with the Philadelphia Pops, at the Smithsonian Institute, and in jazz clubs such as the Blue Note, the Knitting Factory and Tonic.
Mimi Rabson is one of Boston's most creative and versatile musicians. A first-prize winner of the Massachusetts Cultural Council Fellowship in composition, her compositions and arrangements are published by StringLetter Press (distributed by Hal Leonard), and include many original pieces along with arrangements of music by Duke Ellington, James Brown and Cole Porter. Ms. Rabson created the Really Eclectic String Quartet, and was a founding member of the Klezmer Conservatory Band. Ms. Rabson appeared with Itzhak Perlman on the recording called "In the Fiddler's House" and on "The Late Show with David Letterman". She was featured in a documentary about Klezmer music called "A Jumpin' Night in the Garden of Eden". Ms. Rabson served as musical director to academy award winner, Joel Grey in his production of "Borschtcapades '94". Her composition "Klezzified" was featured on Saturday Night Live. Other performance credits include the premiere of "Fresh Faust" by Leroy Jenkins, soundtrack for "Sensorium"- the award winning film by Karen Aqua, with Robert Plant and Jimmy Page, Meatloaf, Kristin Chenoweth, the Boston Gay Men's Choir, the Boston Camarata, the New England Ragtime Ensemble, the Klezmatics, Deborah Henson-Conant, the Pablo Ablanedo Octet, and XLCR. She has appeared on A Prairie Home Companion twice, at Avery Fisher Hall, Lincoln Center Out of Doors, Wolf Trap, the Mann Center, the Place des Arts in Montreal and other world class venues.
Phil Neighbors is originally from Cincinnati, and has lived in Boston since 1995. He has performed and/or recorded with groups as diverse as: The Revolutionary Snake Ensemble, Dave Birkin's Hot Shots, the Sam Davis group, The Coots, the Jeff Robinson Trio, and the Funky White Honkies, Agachiko, and Triarky.
====================================

Warren Senders and The Raga Ensemble
One of the world's great improvisational song forms is khyal, the richly ornamented classical singing of North Indian tradition. Accompanied by the harmonium of George Ruckert and the tabla of Amit Kavthekar, Warren Senders weaves a hypnotic tapestry of sound in his renditions of traditional ragas. Acclaimed as the foremost non-Indian performer of this beautiful idiom, Senders lived in India for many years, learning the khyal style from master teacher Pt. S.G. Devasthali. He has performed throughout the world, enrapturing audiences and critics with a unique combination of authenticity and originality. His most recent CD release, "The Beauty of Khyal," features mesmerizing renditions of five evening and night ragas.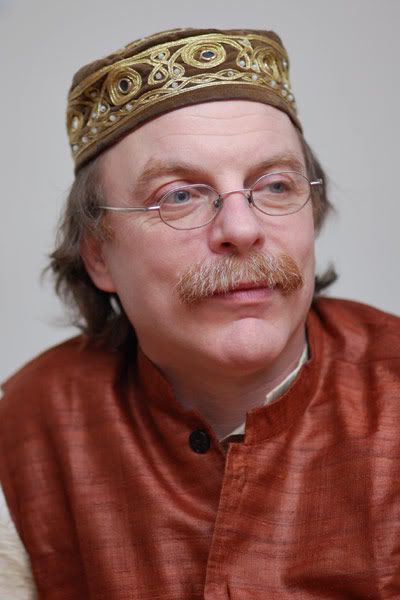 "…an amazing man, an amazing artist."
Ustad Amjad Ali Khan, interviewed in Little India, September 2002
Mr. Senders has received grants and fellowships including the Indo-American Fellowship, the Jon B. Higgins Memorial Scholarship for Indian Music, a Senior Research Fellowship and a Performing Arts Fellowship from the American Institute of Indian Studies, support for music composition from Meet the Composer, and travel awards from the Fund for U.S. Artists. His writings on music have been published by Rhythm Magazine, Bansuri, the New England Conservatory Journal for Learning Through Music, and World Rhythm. Also a jazz musician, his original instrumental music can be heard on cds by "Antigravity" and the Jazz Composers' Alliance Orchestra.
"Warren's talent of keeping listeners engrossed by his delightful singing…comes from this same attitude of heartily enjoying the process of musical discovery."
— Chaitanya Kunte, Tarun Bharat, Pune, India —
An internationally recognized educator and a faculty member of Tufts University and the New England Conservatory of Music, Mr. Senders has given hundreds of lecture-demonstrations, master-classes and clinics, for interested learners from kindergartners to elders. He has developed extensive course material on the structure and aesthetics of Hindustani music, and has introduced students students at colleges and universities all over the United States, Canada and India to aspects of Indian music.
=============================================
About www.350.org and the number 350:
Co-founded by environmentalist and author Bill McKibben, 350.org is the hub of a worldwide network of over two hundred environmental organizations, all with a common target: persuading the world's countries to unite in an effort to reduce global levels of atmospheric carbon dioxide to 350 parts per million or less. Climatologist Dr. James Hansen says, "If humanity wishes to preserve a planet similar to that on which civilization developed and to which life on Earth is adapted, paleoclimate evidence and ongoing climate change suggest that CO2 will need to be reduced from its current 385 ppm to at most 350 ppm." (Dr. Hansen heads the NASA Institute for Space Studies in New York City, and is best known for his testimony on climate change to congressional committees in the 1980s that helped raise broad awareness of the global warming issue.) Activists involved in the 350 movement include Rajendra Pachauri (Chairman, Intergovernmental Panel on Climate Change), Vandana Shiva (world-renowned environmental leader and thinker), Archbishop Desmond Tutu (1984 winner of the Nobel Peace Prize and a global activist on issues pertaining to democracy, freedom and human rights), Van Jones, Bianca Jagger, Dr. James Hansen, Barbara Kingsolver and many more.
=============================================
Warren Senders is the contact person for "Voices Against Climate Change." He is one of thousands of concerned global citizens hoping to trigger positive change through social action and the arts. He can be reached at warvij@verizon.net or by telephone at 781-396-0734.